JOIN TILLY TAROT & WIN!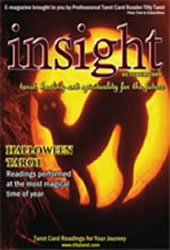 When you join you will receive exclusive competitions and offers! Also, every month I personally produce an E-Magazine called 'Insight' for all my members. It is totally free and contains so many articles varying from everything Tarot to Holistic Treatments, Colours, Divination, Seasonal Soltice Festivals and so much more!
Everyone is also automatically entered into the Competition to Win a Full Celtic Cross FREE Tarot Card Reading Monthly and a One Card Reading Daily!
STORIES NEEDED!
Ghost, Paranormal, Spiritual, Spirit Guide and other Stories needed for the next few issues! If your's is the winning story you will recieve a Free Tarot Card Reading of your choice from the website.
Winner's List for Monthly Full Celtic Cross Readings (Daily winners not shown - there are too many!!)

2018

February - Amy E

January - Eva P

2015

December - Holly

November - Astrid

October - Stephen G

September - Jackie H

August - Xiang

July - Paul from New England

June - Julie from Essex

May - Amy from Dorset

April - Joyce Edwards

March - Anthony Smith

February - Sandy Beltra

January - Julie Smith

2014

December - Sonya Jolly

November - Michelline Lee

October - Mandy Gallwey

September - Sue Bowden

August - Samantha Williams

July - Katrina Fennel

June - Julie Kenny
Prize draw rules
1.       No purchase necessary.
2.       Entrants must be aged 18 years or over.
3.       There will be 1 winner, winning one prize.
4.       Entries must be received by 5pm on 1st of every month. The winner will be notified on or before 3rd of every month by the email address they provide. If no response is received within 30 days another draw will take place.
5.       Entry is strictly limited to one entry per person for the Prize Draw. Entry to the Prize Draw can only be made by emailing me with the title 'newsletter' and their full name.
6.       Prize draw winner's name and country will be available to view on the Tilly Tarot website.
7.       Acceptance of the prize will be deemed as permission by the entrant of Tilly Tarot to take publicity photographs and interview the winners and for these to be used by Tilly Tarot in any media publication.
8.       The prize will consist of 1 Tarot Card Reading with a one question.   The prize will be delivered to the winner within 2 weeks of the prize draw and contact.
9.       There is no cash alternative to the stated prize.
10.     The judges' decision is final. No correspondence will be entered into.
The Prize Finder - UK Competitions
UK Competitions and Prize Draws at UKwins
UK Competitions from CrazyCompers.co.uk Guide to UK competitions and prize draws exclusively for UK residents. Enter free online comps. Win holidays, cars, cash, and other great prizes. Try our Comps Newsletter full of UK competitions, prize draws, and more.
ABCwin - Win a Car or a holiday - The 100% FREE Competition Site  
Competition listed at Competitions Today