This Tarot spread can help reveal a clear pathway and resolution to a problem you may have.  Shuffle your Tarot Deck and select Seven cards placing them from left down and up to right in the shape of a Horseshoe.  When selecting your cards think deeply about the question you wish to be answered and I shall put to the cards these thoughts for each of the seven cards;

Card 1 refers to influences in the past.
Card 2 indicates the present circumstances.
Card 3 reveals the future in general terms.
Card 4 indicates the recommended action.
Card 5 reveals the attitudes of those surrounding you.
Card 6 indicates obstacles that may stand in your way.
Card 7 suggests the probable final outcome of the problem.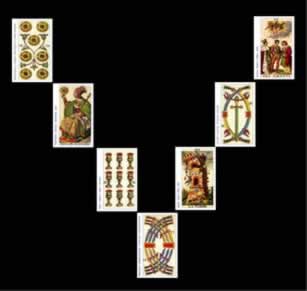 This is one of the most ancient of Tarot Card Spreads and can reveal many different sides of a situation. A must have Psychic Tarot Card Reading that will illuminate your pathway and options.
£30.00