Maybe you are on the verge of breaking up with your partner and cannot decide if it is the right move.
Do you have a crush on someone and you want to know if they feel the same?
Are you confused about your sexuality?
Help determine the right direction for you with the Tarot.
This is really a 'Bottom Line' reading. I will ask the cards your personal question to find out why things have become the way they are.
Find out for certain the outcome to your straight talking bottom line question - no messing about!
"Thanks Tilly, I've told all my friends about your readings - I never usually use the same reader twice, but you are really accurate." (Lucy, US)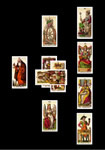 Full Celtic Cross – (Eleven cards) Focuses in-depth on the Past, Present and Future.  You can ask Tilly any questions after the Tarot reading.  Great for specific insights or a general forecast.
£36